Anteprima episodio 01 | La promessa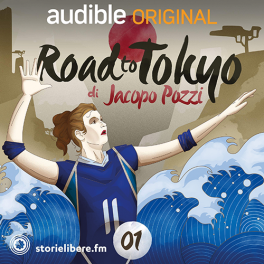 LA NAZIONALE DI VOLLEY E IL SUO CAMMINO VERSO IL SOGNO OLIMPICO
ANTEPRIMA EPISODIO 01 | LA PROMESSA
Con l'anteprima del primo episodio di ROAD TO TOKYO, in cui conosciamo più da vicino le protagoniste del sogno olimpico delle azzurre del volley, inizia la collaborazione tra Storielibere e Audible.
Ascoltiamo alcune di queste straordinarie atlete, le dinamiche del team e le sfide affrontate per conquistare la qualificazione: la sconfitta dolce/amara dell'ultimo mondiale e cosa rappresenta oggi, quel momento, con la promessa che le Olimpiadi saranno il coronamento di saranno il coronamento di un percorso straordinario che possa portarle, tra 12 mesi, a salire quell'ultimo gradino del podio per trovarsi davvero sul tetto del mondo.
Ascolta su Audible il primo episodio della docu-serie ROAD TO TOKYO.