Ep.20 | Young Adults – ENG
A production of the Ministry of Foreign Affairs and International Cooperation and storielibere.fm, in partnership with cultural association Monteverdelegge
Who are the readers that come under the editorial definition "young adults"? What do teens want to read in that most complicated period of life, adolescence? And how has this segment of Italian publishing changed in recent times?
Leafing through the Alfabeto italiano, the page opens at the letter Y, Y for Young Adults, an English term frequently used in the publishing field to describe book production intended specifically for adolescents, texts centred on heroines and heroes struggling with their anxieties. Or adventures set in distant galaxies, at the centre of which a young girl or boy is ready to take on the monsters, fight them and rout them.
With Mariagrazia Mazzitelli (Salani) and Nicola Galli Laforest (Hamelin – Xanadù)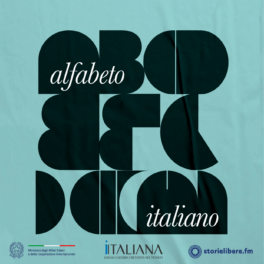 A production of the Ministry of Foreign Affairs and International Cooperation and storielibere.fm, in collaboration with cultural association Monteverdelegge
How does the world of books operate today? What does the work of a publishing house consist of? And how do Italian publishers look abroad? Alfabeto Italiano, the podcast made by Storielibere for the Italian Ministry of Foreign Affairs and International Cooperation, tells the story of publishing in Italy in 24 words, from A to Z. This journey to discovery the passionate work hidden behind every book is conducted by Maria Teresa Carbone, author, journalist and translator, who meets the heads of publishing houses, booksellers and communicators, graphic designers and translators, teachers and illustrators: an ideal journey towards two events where Italians will be to the fore, the Salon du Livre de Paris 2023 and the Frankfurter Buchmesse 2024.