Ep. 4 | Ufficio Stampa – ENG
A production of the Ministry of Foreign Affairs and International Cooperation and storielibere.fm, in collaboration with cultural association Monteverdelegge
What is the role of the press office of a publishing house? What strategies are deployed to enable the public to discover a book?
Leafing through the letters of Alfabeto italiano, the page opens at the letter U: U as in "Ufficio Stampa", or Press Office in English, the phrase on which we alight on for this stage of our journey through Italian publishing. Two words and one role, of which readers are almost always unaware, but that Nanni Balestrini who liked to define as "the beating heart of a publishing house".
With Valentina Notarbernardino e Valentina Fortichiari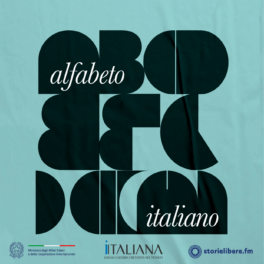 A production of the Ministry of Foreign Affairs and International Cooperation and storielibere.fm, in collaboration with cultural association Monteverdelegge
How does the world of books operate today? What does the work of a publishing house consist of? And how do Italian publishers look abroad? Alfabeto Italiano, the podcast made by Storielibere for the Italian Ministry of Foreign Affairs and International Cooperation, tells the story of publishing in Italy in 24 words, from A to Z. This journey to discovery the passionate work hidden behind every book is conducted by Maria Teresa Carbone, author, journalist and translator, who meets the heads of publishing houses, booksellers and communicators, graphic designers and translators, teachers and illustrators: an ideal journey towards two events where Italians will be to the fore, the Salon du Livre de Paris 2023 and the Frankfurter Buchmesse 2024.